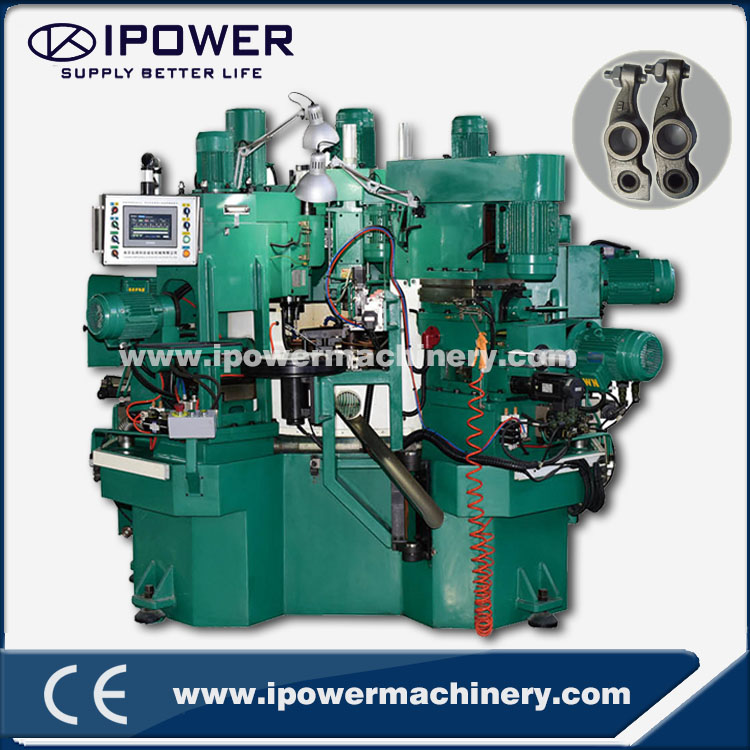 Car Rocker Rotary Transfer Machine
Update: 2017/11/9 View:
Brand:

IPOWER

Type:

IP-01

Machining Parts:

Car Yoke

Machining Material:

Brass,bronze,copper,stainless steel,steel,aluminum,titanium,iron
Introduction
Product Introduction
Rotary transfer machines are ideal for even larger quantities and more complicated parts than those produced on multi-spindles. Rotary transfer machines are used to produce turned parts which require many operations such as cross drilling, cross tapping, milling, and extensive back-working. The machines normally are used to produce volumes in the millions annually. Some of the most popular rotary transfer machines worldwide include Hydromat, Eubama, Micron, and Buffoli. Our objective is providing our customers with unsurpassed quality, reliability, and productivity. We tailor all of our manufacturing solutions to customers' specific requirements.
On a traditional rotary transfer machine, bar stock is sawed off and then the blank part indexes around the machine to many different stations ("units") where various operations are performed. For instance, one station will do drilling, another station will do recessing, another station will do milling. Traditionally the tools turn while the material remains stationary--this is the opposite of the process on a traditional lathe in which the material rotates and the tools do not. It's most common to find rotary transfer machines equipped with 6 to16 stations.
Main application: Automotive, construction, defense, aerospace, compressors.Bar turned parts for oil, water, gas, electronics: fittings, plumbing valves, connectors, nipples, unions, barbs, covers, rings, screws, caps, inserts, couplings, cartridges, etc. Hydraulic and pneumatic components (heating, ventilation, air conditioning, fire prevention/fighting, anti-pollution, etc.) Components for gas, appliances, compressors, pumps, and so on.
For example material, brass, bronze, copper, stainless steel, steel,aluminum, titanium, plastic, iron, casting iron, etc.
For example product, LPG Cylinda Valve, ball valve, plug valve, steam valve, stop valve, gas valve, etc.

This model is specially designed for brass nut processing after forging. It is very suitable for high volume production. The processing speed is very fast as one machine has many stations, and it comes out with a complete finished products, meanwhile, only one operator is enough.
Six position with four axles
Video Show