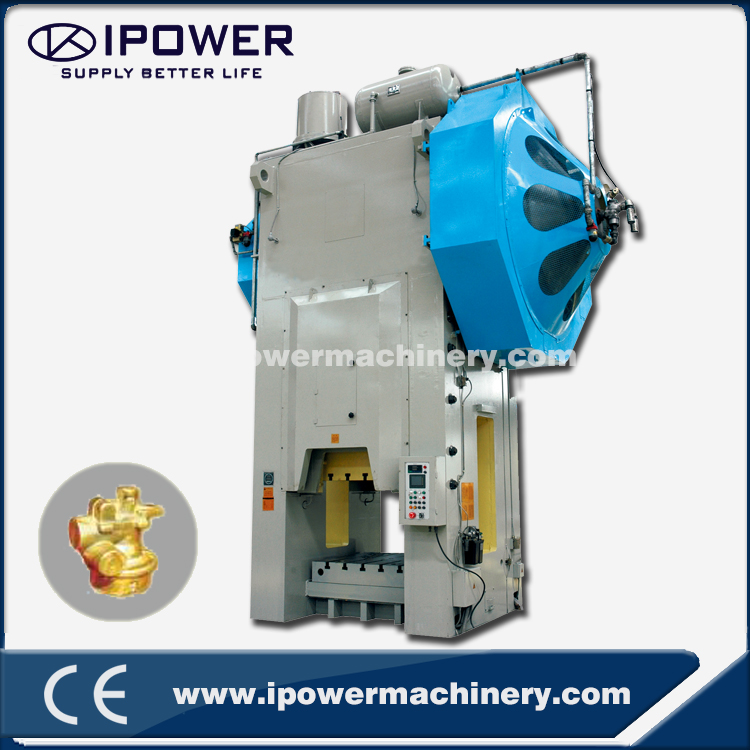 Warm & Hot Forging Press
Update: 2017/11/9 View:
Brand:

IPOWER

Type:

IP-J31

Machining Parts:

ball valve, safety valve, angle valve, globe valve,etc

Machining Material:

brass
Introduction
Forging is a manufacturing process involving the shaping of metal using localized compressive forces. The blows are delivered with a hammer (often a power hammer) or a die. Forging is often classified according to the temperature at which it is performed: cold forging (a type of cold working), warm forging, or hot forging (a type of hot working). For the latter two, the metal is heated, usually in a forge. Forged parts can range in weight from less than a kilogram to hundreds of metric tons. Forging has been done by smiths for millennia; the traditional products were kitchenware, hardware, hand tools, edged weapons, and jewellery. Since the Industrial Revolution, forged parts are widely used in mechanisms and machines wherever a component requires high strength; such forgings usually require further processing (such as machining) to achieve a finished part. Today, forging is a major worldwide industry.

Advantage
Forging can produce a piece that is stronger than an equivalent cast or machined part. As the metal is shaped during the forging process, its internal grain deforms to follow the general shape of the part. As a result, the grain is continuous throughout the part, giving rise to a piece with improved strength characteristics. Additionally, forgings can target a lower total cost when compared to a casting or fabrication. When you consider all the costs that are involved in a product's lifecycle from procurement to lead time to rework, then factor in the costs of scrap, downtime and further quality issues, the long-term benefits of forgings can outweigh the short-term cost-savings that castings or fabrications might offer.
Some metals may be forged cold, but iron and steel are almost always hot forged. Hot forging prevents the work hardening that would result from cold forging, which would increase the difficulty of performing secondary machining operations on the piece. Also, while work hardening may be desirable in some circumstances, other methods of hardening the piece, such as heat treating, are generally more economical and more controllable. Alloys that are amenable to precipitation hardening, such as most aluminium alloys and titanium, can be hot forged, followed by hardening.
1) Large slide stroke, the nominal power stroke, suitable for all kinds of warm forging parts forging, broadening the scope of the press.
2) Under mechanical ejector device with a long stroke and high rigidity, especially for long "mug shots" shape forging parts, such as constant velocity joint of warm forging.
3) The main drive two transmission, flywheel energy substantial increase
4) Main motor adopts frequency conversion motor, you can adjust a variety of suitable crosshead speed forging, as well as low-speed transfer mode provides a convenient.
5) High precision slide movement, with boredom car features
6) The whole machine adopts PLC control, with a variety of safety testing of tonnage tester, axle temperature detection, ensure the safe operation of the press.
* Inquiry and consulting support.
* Sample testing support.
* View our Factory.
* Training how to instal the machine, training how to use the machine.
* Engineers available to service machinery overseas.
Q1:How to guarantee the Quality of hot forging press machine?
A1:We are ISO 9001-2008 certified company. we have the integrated system for industrial parts quality control. We have IQC (incoming quality control), IPQCS (in process quality control section), FQC (final quality control) and OQC (out-going quality control) to control each process of industrial parts prodution.

Q2:What's the Advantage of iPOWER hot forging press machine?
A2:Our advantage :
1. The technology is imported from Germany and we have experienced engineers who have been worked in this field for more than 20 years, and some new engineers who has production experiences, know-how the machine working in pratice.
2. High precision,most competitive prices, fast delivery.
3. With good company culture, our employees are responsible-oriented, friendly-oriented,and diligent-oriented. our machines are featured by strict tolerance, smooth finish and long-life performance.

Q3:what are the machining equipments?
A3:Our machining equipments include milling machines, turning machines, stamping machines, hobbing machines, automatic lathe machines, tapping machines, grinding machines, screw machines, cutting machines and so on.

Q4: What shipping ways you use?
A4:Generally speaking, we will ship them by sea. This way can save our customers a lot of freight fee.

Q5:What materials can you handle?
A5:Brass, bronze, copper,aluminum, titanium, for LPG Cylinda Valve, ball valve, plug valve, steam valve, stop valve, gas valve, etc.

Q6:Can you provide detailed proposal,photos, working viedo, and specifications of the machines?
A6: Yes, we can provide all detailed information of our machines. We can give full proposal after receiving drawing of the products.
Video Show